We wish you all a nice and happy new 2012 year !
2011 was a nice and sunny year, with high temperatures, certainly one of the warmest year of the 100 past years. The harvest began at the end of August, and gave us very nice fruits and wines. We're actually waiting to taste those, to know the evolution and the potential of this vintage. Not bad, for sure.
Here is a picture to celebrate this new year. All the winegrowers of the family wish you a very nice year. From the left to the right : Roger chartogne, Philippe Chartogne, Alexandre and Roger Chartogne, Eloi Chartogne (born in 2010).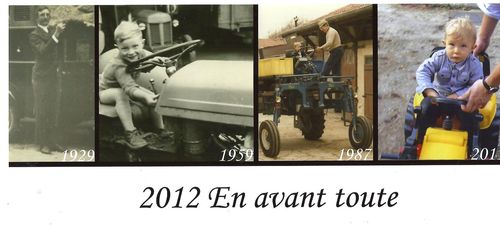 PS : For those who understand french, there are more details (1712 and 1812 harvest explained by my ancesters) on the french version of my weblog, sorry for this, the translation were too hard ...
Happy new year !