From Japan to France, the press is active to speak about our work and our wines.
A satisfaction for us, who always work hard to help the plants and the soils to be healthy and "alive"
Here are those two reviews, for those who speaks ... French and Japan
Download available here :  Téléchargement Winart#65
Aligato !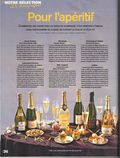 I wish you a very nice beginning of 2012 !
Alexandre Chartogne